At the zenith of his career in the 1930's and 40's Eddie DeLange was recognized for his dual success as both a lyric writer and a bandleader. In 1936 he became well known as the front man for one of the earliest bands associated with the swing era, the Hudson-DeLange Orchestra. The joint venture with composer/arranger Will Hudson grew out of their earlier relationship as a song writing team. Among their very first collaborations was one of the most memorable songs of the day, the 1934 hit "Moonglow." During a three year period in the mid 30's, the band played more than 200 ballroom dates throughout New England and the Midwest and appeared in the Terrace Room of the old New Yorker Hotel, which later became a showcase for the Benny Goodman Orchestra.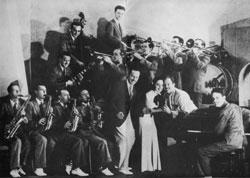 The average age of the Hudson-DeLange Orchestra was 22 years
Born in Long Island, New York in 1904 to a playwright/lyricist father and a mother who starred in Broadway musicals, Eddie was a performer at heart. After graduating from the University of Pennsylvania in 1926, he drove out to Hollywood where he spent five years in motion pictures as a bit player and stunt man in both silent and talking pictures. During this time, he appeared in no less than twenty-four Universal Studios comedies. For an entire year he leaped off bridges and speeding trains as Reginald Denny's double.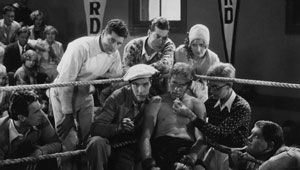 Universal casts Eddie as a boxer
Lyric writing had always been a passion for Eddie; he spent his time in California working on songs. In 1932, he returned to New York with over 100 lyrics in hand. One of them, "What Are Little Girls Made Of ?," won him a contract with the music publishing powerhouse Irving Mills, for whom he spun out successful lyrics for what were to become American classics. He wrote the words to Duke Ellington's "Solitude," to "Haunting Me" with Josef Myrow, and to "I Wish I Were Twins" with Frank Loesser and Joseph Meyer. These three songs and "Moonglow" meant that in the first 14-months of his writing career, Eddie DeLange had four solid hits and won the ASCAP prize for excellence four times in a row.
Between 1935 and 1938, the Hudson-DeLange Orchestra, even with its extensive tour schedules, recorded more than 50 songs for Brunswick Records, many of them original compositions. The Hudson-DeLange partnership was dissolved in 1938 and Eddie DeLange formed and led his own orchestra on several tours. This band introduced and featured a new song, "At Your Beck And Call," a collaboration with Buck Ram, the young tunesmith who would eventually find fame as manager of the 50's rock and roll vocal group, The Platters.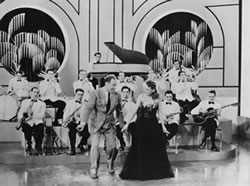 Singer Elisse Cooper, Eddie DeLange,
and his orchestra play a New York club
The new Eddie DeLange Orchestra played in several New York clubs and was featured for a time on CBS Radio's "Dole Pineapple Show" behind comedian Phil Baker and The Andrews Sisters.
During this period, Tin Pan Alley song plugger Charlie Warren organized a meeting between Eddie and composer Jimmy Van Heusen which resulted in a highly productive partnership. In a relatively short time the team produced such hit songs as "Deep In A Dream," "Heaven Can Wait," "Can I Help It," "This Is Madness," and "All This And Heaven Too." A tune which emerged from Swingin' The Dream (their Broadway musical) was Jimmy Van Heusen's first big hit "Darn That Dream."
During one 41-week run between 1937 and 1939, there was at least one Eddie DeLange song at the top of radio's "Your Hit Parade" every week but one. In the early years of World War II, with a variety of composers, he continued to turn out important hit lyrics, among them "Shake Down The Stars," "Just As Though You Were Here," "Along The Navajo Trail," and "Velvet Moon" (The 1943 Harry James recording enjoyed enormous sales). And, he was asked to put words to the immortal "String Of Pearls."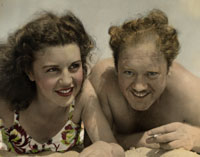 Thereafter motion pictures beckoned. In 1944 DeLange and his wife of one year, New York fashion runway model Marge Lohden, settled in Los Angeles where he began another productive career period writing songs which found their way into such movies as "The Bishop's Wife" with Cary Grant, David Niven, and Loretta Young; "If I'm Lucky" with Perry Como, Harry James, Carmen Miranda, and Vivian Blaine; and "New Orleans" with Billie Holiday and Louis Armstrong.
Eddie DeLange died in 1949 at the age of 45. He was posthumously inducted into The National Academy of Popular Music's Songwriters Hall of Fame in 1989.